After the Great Resignation, employers are looking for new ways to remain competitive and attract new high-performing prospects to their organizations. Beginning with a strong job advertisement with a clear employee value proposition can help to set the tone of the role and your company culture early on, helping candidates feel comfortable in their compatibility with your business. Below, we're uncovering the key elements of what makes a great job advertisement that converts, and how you can take advantage of optimization to help you source high-performing candidates in today's job market.
Important Elements In A Job Advertisement
To win the potential application of a candidate in today's job market, there are a few things that every advertisement should include. We've listed them below for your reference.
Salary and benefit information
What once was considered "taboo" to list in job advertisements has now become expected for most job seekers. According to Employee Benefit News via BuiltIn, 61% of U.S. candidates are more likely to apply to a listing with pay information present. In today's hiring landscape, pay transparency automatically boosts an employer's credibility, and can be indicative of the state of company culture and fit.
This is especially true, as the Great Resignation has driven more employers to look at their current packages, and enhance them with new benefit features, assistance programs, and pay boosts.
Location
While this may seem commonplace, including the location has growing importance in today's complicated world of employment logistics. Due to the pandemic, many employers are chasing hybrid office structures or fully virtual workplaces. If your organization is offering either of these, consider highlighting this in your job ad. Now, more than ever before, employees are looking for that type of flexibility in employment. As many grew accustomed to remote work during the pandemic, it has now become an unspoken standard of the workplace due to dynamic COVID-19 restrictions and employee preferences.
Beyond employee morale, your organization may choose to do this simply for the boost in productivity. Several studies have acknowledged that employees who have the ability to work from home are more productive than those who work in an office. This may be due to less community distractions, and the speed at which virtual work can run. Vital information can be shared in seconds, and organizations have made a global effort to streamline processes at the start of and throughout COVID-19.
Title and related keywords
You can use your title strategically in your job ad, for both organic ranking and candidate interest. Using your title as a way to engage prospects and interest them in your open role can only benefit the organization. Consider using uplifting, powerful titles that will draw the attention of your ideal candidate. To do this, you might consider studying their needs and preferences, or working with a copywriter who can help add a personalized touch to your job listing.
Your title can also be laced with keywords that will be easily picked up for SEO purposes. This can help give your listing a natural boost, allowing your post to be seen by a wider audience. Google places great importance on correctly optimized job listings, which, if done correctly, can help to connect you with your next great hire.
Best Practices for Creating Job Advertisements
Now that we've covered what should be in your job advertisement, we can focus on best practices to implement to make your listing even more compelling to your ideal candidate. Below are just a few of the ways that you can take advantage of the optimization process, and determine what works best for your business and prospect type.
Use a recruitment video
Often overlooked when creating job listings, recruitment videos are great to give your listing a more personal touch. By simply including a video, Small Biz Genius has found that the application rate jumps up by as much as 34%. Creating a video ad for your business' open role can instantly elevate your brand perception, and help you reach the correct group of potential candidates. Plus, video has always been favored by SEO crawlers, which could give you an added advantage over those who opt not to use a video.
Show your brand's personality
Candidates engage more readily with a brand that shows personification and a clear brand voice. Instead of dry, unoriginal content. Great ways to do this include adopting a unique tone to your ad's copy, using engaging branded imagery, and creating a modern and prospect-forward employee value proposition throughout your job listing and campaign efforts. No matter what your brand's unique voice may look like, you always want your listings to be:
Positive. Enthusiasm goes a long way for indicating the true company culture behind the listing. Consider writing in a positive, upbeat way to instantly catch attention and add some personal touches into your listing.
Direct. Rather than a generic bulleted list, write your ad as if you were speaking to the person that you're interested in reaching. This can help to instantly form a connection between your organization and your ideal prospect, and encourages them to continue reading down the listing.
Prospect-centric. Instead of framing your listing in a way that outlines your company's needs only, consider writing it in a more prospect-centric model that highlights what the candidate can gain by applying and accepting a position with your organization. Great things to list here include benefits packages highlights, competitive salary information, and anything else that you can offer a prospect.
Examples of Great Job Advertisements
We have covered the anatomy of a great job advertisement, but it can be helpful to see real-life examples that embody the concepts that we've covered. Below, we've listed a few examples from top competitive brands, and have given a brief review of each one.
1. Apple

Source: Apple - US-Business Pro Job Posting
Apple does a fantastic job with creating an upbeat, eye-catching title. They immediately elevate the prospect as a potential "pro," should they choose to accept the challenge and apply. Apple also creates engaging copy that immediately pulls you in. Speaking directly to the reader, and using a tone of professionalism and clarity throughout, this copy is extremely competitive.
While they've done an excellent job cementing their brand awareness and perception, smaller enterprises can get the same results by applying the concepts that we've mentioned above. Simple swaps can make you more competitive in the job market, and yield the results that you're looking for.
2. Google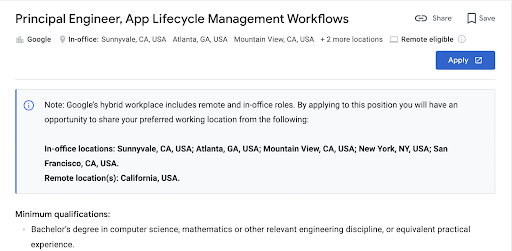 Source: Google – Principal Engineer, App Lifecycle Management Workflows Job Posting
With Google's ad, you can clearly see the role and the company's expectations of competency and qualification. They leave little to be questioned, being extremely up front and clear with the prospect. They also highlight this as a "remote-eligible" role, as they know just how competitive that benefit can be.
3. Rarebreed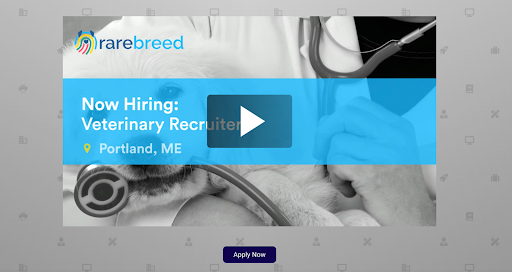 Source: Rarebreed – Lumina Job Posting
Rarebreed's Recruitment Video features engaging imagery and is presented to candidates in a sleek, modernized video format. Touching on all three learning styles and concise presentation, Rarebreed's Recruitment Video is optimized for recruiting over plain-text job postings. If the prospect is interested in continuing (proceeding), they simply click the "apply now" button- thanks to a user-friendly design and application.
4. Asana

Source: Asana – Client Success Manager Job Posting
Asana leads off with a strong employee value proposition, and offers a clear insight into otherwise intangible company culture. They also speak directly to the candidate throughout the description, using clear and concise language that they are known for. This nuance of simple language throughout the ad is in alignment with their overall brand perception and tone.
Need Help With Your Job Advertisement?
If you're looking for assistance with your job advertisement creation and success, you're in good company. Hundreds of businesses are looking for new ways to remain competitive in today's dynamic job market. Lumina helps your business to attract and retain high-performing candidates with lightning fast technology and proven recruitment branding strategies. Request your first video (at no cost) today.